The Negroes Are Congregating Is The Ultimate Clap Back Against Racism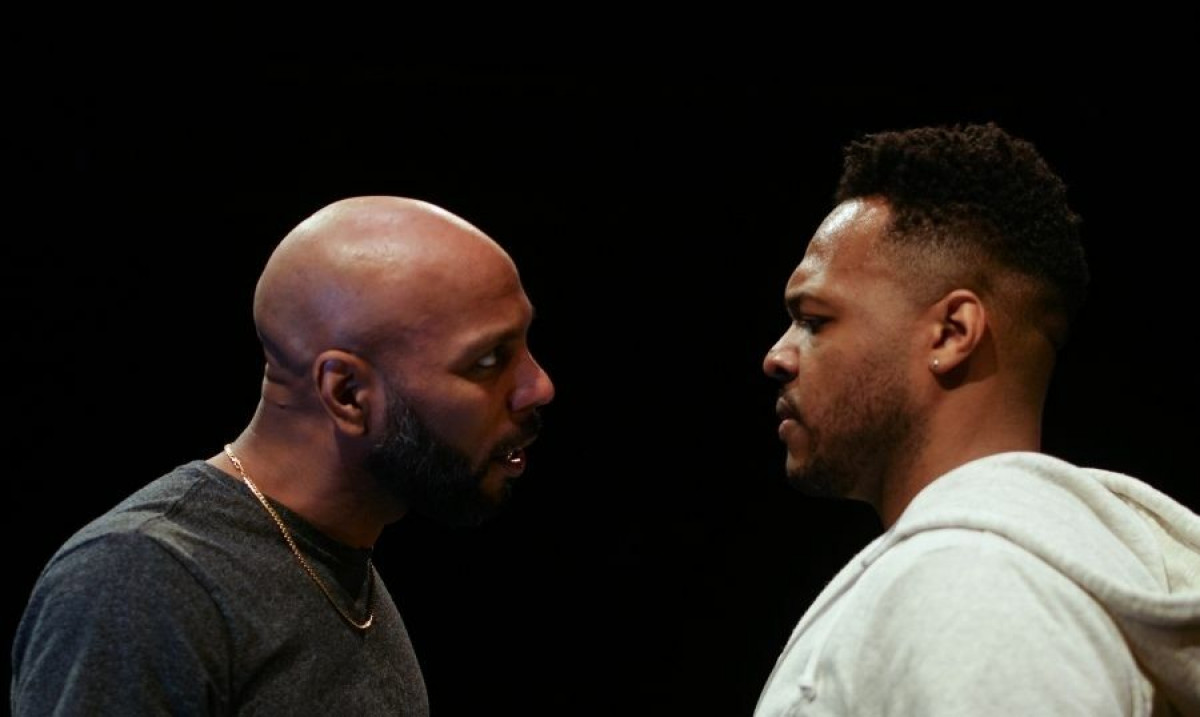 The Negroes Are Congregating is a relentless, in your face, mélange of sketch, vignette and spoken word that takes you to church and into the Black psyche living with anti-Black racism, all without missing a beat. The play is intricate, funny, contemplative, and incredibly fast-paced.
One-liners jet by barely allowing time to digest: "Wakanda is not our ceiling" "I may not know my roots but I most definitely know my desire" "complacency is a conduit for slavery". The play, which throws countless lacerating blows against racism was created by the soft-spoken and incidentally, heavily pregnant, Torontonian Natasha Adiyana Morris.
I can let my guard down. The show is up, I don't have to think about notes and producing and putting out fires! I can just sit and watch and that's my favourite part.
Morris is resting easy, shoes kicked off, fully ensconced in a rounded plastic chair in Theatre Passe Muraille's greenroom. The Toronto west end theatre will be her virtual home for the next two weeks while her play, presented at Theatre Passe Muraille's main stage, does it's best to leave an indelible mark on theatregoers' consciousness. The 33-year-old playwright and founder of Piece of Mine Arts theatre company is a picture of calm and quiet confidence, unlike her latest work which rings out loud and emphatic. The first iteration of the play stomped on to the theatre scene at Piece of Mine Arts Festival in 2015 at 20 minutes long. It won the Contra Guys Award for new performance text at SummerWorks Festival, 2018. The work has expanded through readings, alterations and international runs and is now a finely tuned eighty-minute clap back at anti-Black racism in Canada and abroad.
As I watch it I ask, where are we and where am I? We have to talk about internalized racism… We are congregating but are we working together?
Morris' clever use of the children's story The Little Red Hen, answers her semi- rhetorical question. The enterprising hen asks her farm animal friends for help planting and harvesting, only to be repeatedly turned down by all. When it came time to enjoy the fruits of her labor, the otherwise unengaged farm animals rushed in for the spoils but were decisively dismissed by the rather perturbed hen.
Like the red hen, Morris has little time for folks who are not willing to put in the work and contribute to the culture.
My upbringing is definitely woven deeply into the play. The Black experience as being bi-racial but raised by my Jamaican mother and my Jamaican dad who raised me from when I was 3 yrs old, informs who I am. My biological father was not as involved in my life and lived in the States when I was growing up. So, I lived in a Black family, there was no colorism, no, "she's gonna get treated better because she's lighter", everyone was treated the same in my family and I really appreciated my dad for always uplifting Black women- you'll see a 'Hotep' character in the play who somewhat represents my father.
What is it about expressing yourself through the written word that appeals to you so much?
If I feel like I can be transported and feel something real, that is what I want to convey. Too often we really want things to be packaged and perfect. There's the punchline, here's the formula, just copy and paste. Anything that can shake that up and make me pay attention and say, "oh! that came across authentically because I can feel it in my body", I want to be a part of that."
Some of the characters are speaking regular prose, regular dialogue, some parts are spoken word. We have a lot of movement. I don't want to put restrictions on how the story is told or say, only 20% of it can be spoken word. This is how the character is coming to me and I'll just go with that and I'll just piece it together later (laugh).
Read the full article HERE.